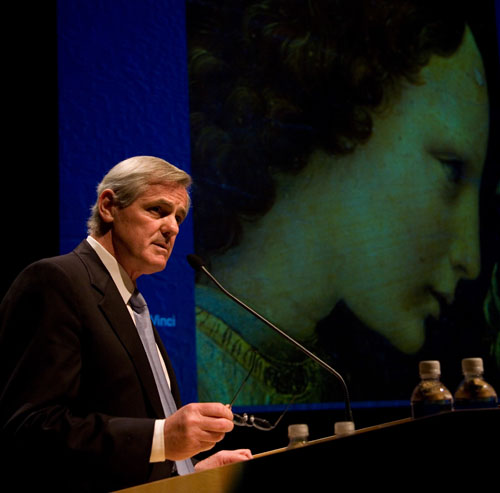 Maurizio Seracini is a pioneer in the use of multispectral imaging and analytical technologies applied to works of art and monumental buildings. He joined UC San Diego in 2006, more than thirty years after graduating from UCSD with a B.S. in bioengineering in 1973 and a Doctorate in Electrical Engineering from the University of Padua in 1976.
From 1975-77, he participated in the Leonardo Project in search of the long-lost fresco The Battle of Anghiari, a project sponsored by the Armand Hammer Foundation, the Kress Foundation, and the Smithsonian Institution. 
In 1977, Seracini established Editech (Electronics, Diagnostics and Technology), a Florence-based company that was the first private center in Europe to apply engineering sciences to the study of the world's art and architectural cultural heritage.
Since 1980, Seracini has lectured at institutions in Italy and abroad, including England, Spain, Argentina, Greece, Mexico, Switzerland, and the United States. He has been an adjunct professor at the University of Ca' Foscari (Venice), an adjunct research professor at the School of Engineering and the School of Arts and Humanities of the University of Calabria (Cosenza), and at the University of Florence in its School of Engineering, School of Architecture, and School of Natural, Physical, and Mathematical Sciences. He has also lectured at the University of Pisa, Milan, and Padua. From 2014 to 2016 he was a visiting professor at the School of Engineering of Monash University, Melbourne.
In 2007, he founded the Center for Interdisciplinary Science for Art, Architecture, and Archaeology (CISA3) at the University of California San Diego's California Institute for Telecommunications and Information Technology (Calit2). He was the director of CISA3 until 2013.
Seracini has studied more than 4300 works of art, including Leonardo Da Vinci's Last Supper, Botticelli's Allegory of Spring, Caravaggio's Medusa, and over 600 monumental buildings, such as the Palazzo Vecchio in Florence, the Haghia Sophia in Istanbul, and the Palace of the Popes in Avignon.